Alors que je suis toujours désespérément à la recherche d'un billet pour leur concert à la Cigale le 26 mai prochain (complet en moins de 10 minutes), aujourd'hui je vous présente ce qui, à mon goût, est le meilleur remix de "Entertainment", premier extrait de "Bankrupt!", le nouvel album des versaillais de Phoenix.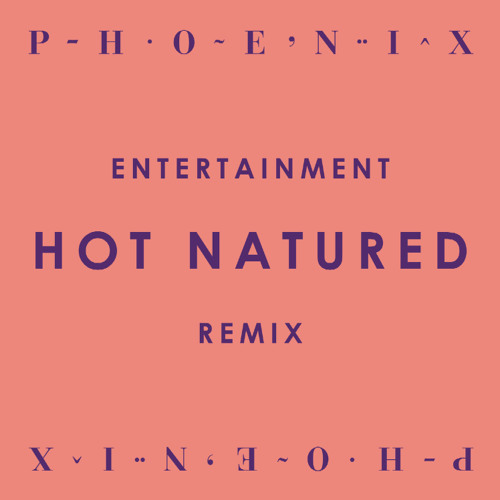 Un album produit, encore une fois, par Philippe Zdar et dont le processus créatif a été très compliqué, selon les déclarations du groupe, mais dont le résultat est cohérent et plus que satisfaisant. Si des chansons comme "Entertainment", "Trying to be cool" ou le combo "Drakkar Noir" – "Chloroform" s'imposent face au reste de l'album, l'énergie contagieuse de "SOS in Bel Air" ou "Don't" ne nous laisse pas de marbre. D'autres morceaux nécessitent cependant de plusieurs écoutes pour être entièrement appréciés, que ce soit par des détails, comme l'intro de "The Real Thing", ou par l'atmosphère qui s'en dégage, comme pour "Bourgeois" ou "Bankrupt", dont des extraits ont servi de teasers pour l'album et dont le public attendait forcément beaucoup. Bien que le morceau titre de l'album ne détrône pas dans mon cœur "Love Like A Sunset" (version de "Twenty-One One Zero" présente sur le précédent opus du groupe, "Wolfgang Amadeus Phoenix"), le mash-up de ces deux morceaux joué en live par le groupe se révèle d'une profondeur épique, à l'image de chacune des prestations live de Phoenix qu'il m'ait été donné de voir.
A la façon d'un petit ovni, "Oblique City" vient clôturer l'album de la même manière dont tout a commencé, par une ambiance d'ailleurs et une énergie qui ne peut que nous donner envie d'écouter ces nouveaux morceaux en concert.
En attendant de retrouver Thomas, Branco, Deck et Christian, accompagnés de Thomas (Hedlund) et Rob, voici "Entertainment", revu et corrigé par le quatour américano-britannique Hot Natured, pour une version nocturne, hypnotique, posée mais entraînante et sexy où la voix de Thomas Mars se retrouve superbement mise en valeur.
>> En concert (complet) le dimanche 26 mai à la Cigale, et le samedi 24 août au Domaine National de Saint-Cloud, dans le cadre du Festival Rock en Seine.