Deux ans après "La Libéración", dans lequel on retrouvait des collaborations avec les new-yorkais de Ratatat, l'écossais Bobby Gillespie, de Primal Scream ou encore l'américain Cody Critcheloe, de SSION, c'est désormais sans Adriano Cintra que les brésiliennes de CSS reviennent pour nous présenter "Planta".
Une nouvelle manière de composer pour le quintet devenu quartet, qui s'est tourné pour la première fois vers les États-Unis pour l'enregistrement de l'album, sous la houlette de Dave Sitek, de TV on the Radio à la production, pour un résultat un peu plus expérimental et moins immédiatement évident que les précédents albums, mais tout aussi intéressant.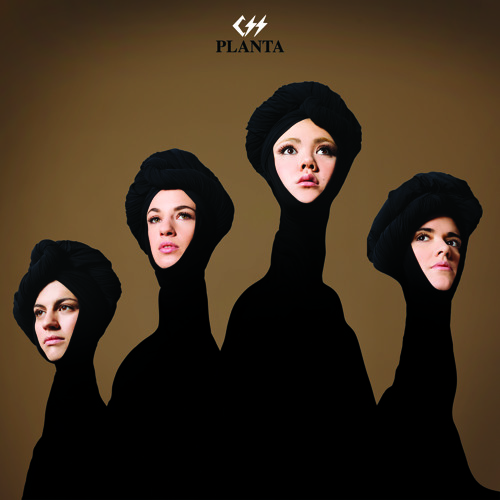 Moins de collaborations cette fois-ci, avec la participation de Tim Armstrong, du groupe américain Rancid, à l'écriture dans "Hangover", et surtout (surtout!) celle de Hannah Blilie de Gossip à la batterie sur "Dynamite".
Un titre punk, rock, spontané et explosif destiné à être le deuxième single tiré du nouvel album, dans lequel on retrouve avec plaisir le talent et l'énergie de cinq amies de longue date, prêtes à tout écraser sur leur chemin. Du break à la guitare acoustique jusqu'à l'omniprésence de la batterie de Blilie sur l'ensemble du morceau, c'est sans aucun doute un des moments forts de l'album, taillé pour le live, tout comme l'excellent "Teenage Tiger Cat", grrrrrr.
Féministe, gay friendly, déjanté ou simplement amateur de bonne musique, je ne peux que vous inviter à découvrir, si ce n'est déjà fait, l'univers de Lovefoxxx, Luiza, Ana et Carolina, ces brésiliennes hors du commun, et à écouter au plus vite leur nouvel album, "Planta", sorti hier et dans les bacs partout en France dès lundi prochain, en attendant de les retrouver sur scène dans un futur que l'on espère plus que proche.
À ne rater sous aucun prétexte: "Dynamite" et "Teenage Tiger Cat", pour le côté rock, "Hangover", pour le côté déluré, ainsi que "Into the Sun" et "The Hangout" pour le côté pop, les paroles et la voix envoûtante de Lovefoxxx.
Et pour finir, voici la vidéo promotionnelle de "Hangover", premier single du nouvel album, qui ne pourra que vous donner de danser, comme souvent avec CSS !
"Driving away into the sun.

I'm looking forward, fuck everyone !

Leaving alone, starting a new day,

Into the sun…"

(Into the Sun)
>> En concert le lundi 23 septembre au Trabendo.