MS MR étant un duo, celui formé par la chanteuse londonienne Lizzy Plapinger et le producteur américain Max Hershenow, cette semaine je vous présente non pas un, mais deux remixes, puisqu'il paraît qu'à deux, c'est toujours mieux.
Les titres remixés sont "Hurricane" et "Fantasy", premier et dernier single en date extraits de leur premier album, "Secondhand Rapture", fraîchement sorti le mois dernier.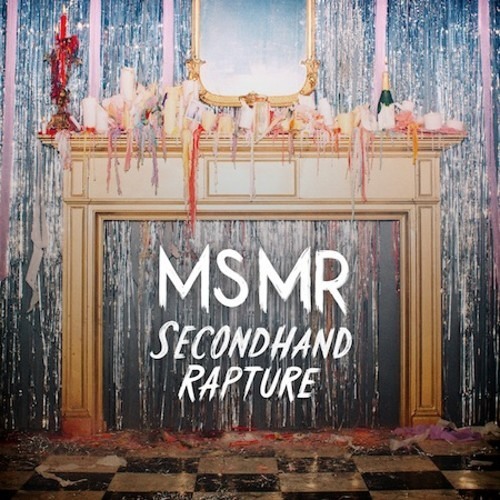 Premiers remixeurs, le trio écossais CHVRCHES, composé de Lauren Mayberry, Iain Cook et Martin Doherty, dont le premier album ne saurait tarder, et qui nous livrent ici une version electropop bien ryhtmée de "Hurricane", où la voix de Lizzy Plapinger, portée par des synthés, prend une dimension plus mélancholique qu'à l'origine, sans toutefois nous enlever l'envie de danser, les yeux fermés.
"Welcome to the inner workings of my mind,

so dark and foul I can't disguise.

Nights like this I become afraid

of the darkness in my heart,

Hurricane"
Le deuxième remix, celui de "Fantasy" par l'anglais Kele Okereke, que l'on ne présente plus, puisqu'il s'agit du chanteur de Bloc Party, est une version nocturne et tribale de la chanson, dopée aux basses et à écouter aux heures les plus avancées de la nuit, sur les dance floors les plus pointus.
Pour conclure, et sans enlever à MS MR le mérite de fournir une matière première intéressante, on peut dire qu'on est ici, avec ces deux remixes, en plein délit de "meilleur que l'original", puisque non seulement ils révitalisent les chansons, mais les amènent vers des dimensions plus lointaines, celles où l'on se retrouve à bouger sans savoir pourquoi, transportés par des rythmes que seuls nos subconscients et nos corps sont capables de percevoir. Alors fermez les yeux, montez le son et laissez-vous porter par le son.
>> En concert (complet) le mardi 02 juillet à la Maroquinerie, et le dimanche 25 août au Domaine National de Saint-Cloud, dans le cadre du Festival Rock en Seine.